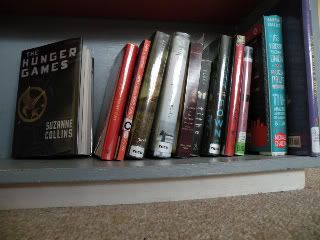 The Hunger Games
by
Suzanne Collins
is prominently displayed because I love it and it was most recently finished. Nice bright reflection off
Impossible
by
Nancy Werlin
. You can't read almost any of the titles. I have to work on my photography skills. Can you see
Paper Towns
is in there by
John Green
.
Madapple
by
Christina Meldrum
.
Octavian Nothing
by
M.T. Anderson
. I haven't read that yet. And on the end a brilliant little book by
Lisa Bullard
--
You Can Write a Story
(my son sat down with paper and pen immediately upon returning with it from the library). The others are adult books that I haven't read yet. See that pink one that is a biography of Jane Austen. The tall blue Michael Chabon.
I am deeply indebted to the
Minneapolis Public Library
(now Hennepin County Library--I have not yet noticed much of a difference). They let me order the books on line and walk down to my local branch and borrow them for free. It is heaven.
The beginning of the beginning.