Discover more from Songs of Forgiveness
A newsletter about love and loss and the role of forgiveness in transformative change. Dispatched on the primary phases of the moon.
We have made our way back to the new moon where no light shines back at us. When I wrote at the last new moon, I did not fathom that we would still be here in the vestibule of goodbyes. As the reality of life is its nature to end in death and we are all dying whether we recognize it or not, I guess as far as percentages go, this is what 10% slower is actually like.
This is the longest the family has spent all in the same proximity since I was in high school. Mom is at the center of things, even as we leave her bedside to cook, eat, get exercise, take the kids to school, get work done, sleep, wash dishes, shovel, and whatever else that comes up. She doesn't interact with us, but she is present in every thought and decision. She has become our measurement of time, as all revolve around her last dose of morphine, and which side she needs to be repositioned on to for the sake of her skin, and which caregiver visit comes next. And like with the passing of time, so does she wear away. There have been so many predictions of her death, because no one can imagine her further decline. And then there we are, she is even thinner, she is taking even less in, her eyes ever more shut.
Songs of Forgiveness is a reader-supported publication. To receive new posts and support my work, consider becoming a free or paid subscriber.
We sit at her bedside with tea, sing songs, read poetry, just chat. We turn on bird sounds in the morning and the cricket sounds at night. We hold her hands, touch her face, play with her hair, put on her lip salve. And we all gather round as our doula brings out the sacred oils to bathe all of our senses together.
She is at our center, but I wonder how our interactions would change if she could be walking and talking and interjecting here alongside us. It's been so long that I can barely remember what she added. We have been walking her life through photos, growing up on a farm, early marriage, early career, finding her bashert, political-activist conservation, motherhood, daughterhood, grandma-hood, retirement. But that is not her interjecting into the moment. Not her stopping us from saying something she doesn't like. Or adding her wisdom and reminders. We include her, but I know she'd like to have more say in the direction this all takes, she has never been one to be passive in group work. Or at least not before the disease set in. So letting her take the lead in this letting go of life involves watching her closely for signs, let us know, Mom, what do you think? What do you want? What will honor you as this chapter comes to a close? Please give us a glimpse of the chapter to come.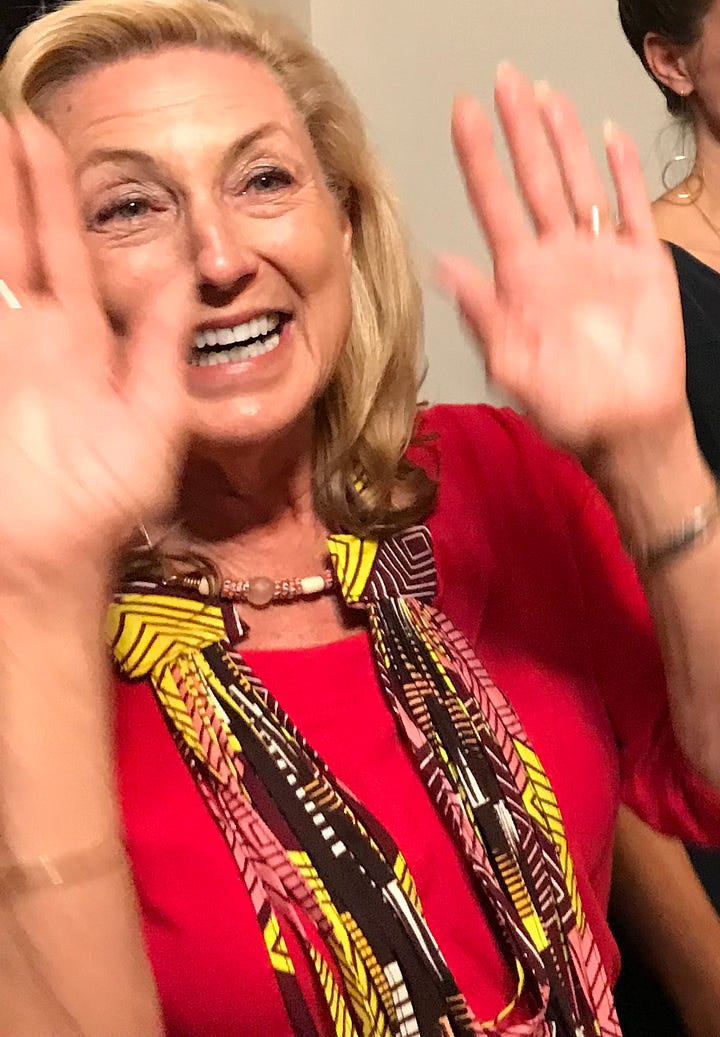 We are so grateful that our lives have allowed for us to be together like this. That technology and the understanding of Becka's dear family and flexibility of her work life allows her to remain here. That Rachel and family have the space and the grace to continue their lives around this coming and going of the caregivers and constant life living, need serving, passage of time. And B(W)ill's devotion and constancy has got us to this point in time. It's a complete privilege and gift to do this together and we are determined to see it through.
Each sign that she displays of her coming passing has a name and many of the names include the word terminal, because the nature of these signs is that they come at the end. So here we are with the terminal waiting. It doesn't come at all endings, not all deaths happen 10% slower, but when they come this way, they get 100% more attention by all involved. You bring it all and do the things you never thought you would be doing, not in a lifetime of living this American life anyway. In another time or place, life very naturally includes death. Well it turns out, life can naturally include death even here in this life as well. Much love, Tina.
Moon Meditation posts:
I have updated the Moon Meditation posts so they are ready for the moon's next revolution around the earth — as I will do each new moon until I recreate the series again. The dates for the Primary Phases are updated to align with the coming phases and the recordings are linked in the post below. The recordings are behind a paywall. You can become a paying subscriber for the month for $8. It will get you the month of meditations and support my work at Songs of Forgiveness. Thank you for being here.
New Moon today: 3/21, 1st Quarter 3/28, Full Moon 4/6, 3rd Quarter 4/13, and then the next New Moon comes around again on 4/20.
Songs of Forgiveness is a reader-supported publication. To receive new posts and support my work, consider becoming a free or paid subscriber.